When:
November 19, 2016 @ 7:30 pm – 9:45 pm
2016-11-19T19:30:00+00:00
2016-11-19T21:45:00+00:00
Where:
Ely Methodist Church
Ely
Ely, Cambridgeshire
UK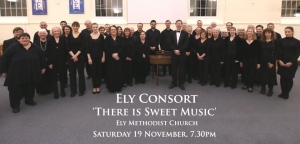 The local chamber choir Ely Consort have built a considerable reputation in recent years for their fine singing and eclectic programming, both of which will be evident in their next concert which takes place in Ely Methodist church on Saturday 19 November 2016 at 7.30 pm.
The church is renowned for its amazingly rich acoustics, and the programme has been specially chosen to take full advantage of this. The concert includes three new settings of texts by Shakespeare written for his quartercentenary this year; Elgar's incredibly beautiful setting of Alfred, Lord Tennyson's words 'There is sweet music'; and 'Unicornis captivatur', a most remarkable recent composition by the Norwegian composer Ola Gjeilo, which uses an incredible mixture of medieval sounds and dance-like music to tell the story of the 'captured unicorn', an extraordinary text written in a Swiss monastery over six hundred years ago!
Ely Consort's concerts are regularly enhanced by the best local instrumentalists, and the programme will include Ely-based violinist Hannah Mulholland playing romantic violin solos, including Elgar's famous 'Chanson de Matin' and Massenet's 'Méditation'. Pianist Charlie Penn will be accompanying a number of pieces, and both he and Hannah will join with the choir in Eric Whitacre's 'Five Hebrew Love Songs' for choir, violin and piano. The concert finishes with Bob Chilcott's 'Gloria', a lively and melodic composition by a former member of the King's Singers, whose music is loved by singers and audiences alike.
Tickets: £10 prior/on door (U16s free)
Online or
Burrows Bookshop, Ely
tel: 01353 669759
Programme to include:
Will Todd: It was a lover and his lass
Sarah Quartel: I know a bank where the wild thyme blows
Cecilia McDowell: Sigh no more, ladies
Violin Solo ~ Elgar: Chanson de Matin
Elgar – There is Sweet Music
Violin Solo ~ Elgar: Chanson de Nuit
Alexander L'Estrange – She walks in beauty
Ola Gjeilo – Unicornis captivatur
Eric Whitacre – Five Hewbrew Love Songs
Violin Solo ~ Massenet: Méditation from Thaïs
Bob Chilcott – Gloria
Musicians:
Piano ~ Charlie Penn
Violin ~ Hannah Mulholland